April 2019
| Mon | Tue | Wed | Thu | Fri | Sat | Sun |
| --- | --- | --- | --- | --- | --- | --- |
| 1 | 2 | 3 | 4 | 5 | 6 | 7 |
| 8 | 9 | 10 | 11 | 12 | 13 | 14 |
| 15 | 16 | 17 | 18 | 19 | 20 | 21 |
| 22 | 23 | 24 | 25 | 26 | 27 | 28 |
| 29 | 30 | | | | | |
Calendar

Who is online?
In total there is
1
user online :: 0 Registered, 0 Hidden and 1 Guest
None
Most users ever online was
24
on Wed Oct 10, 2018 2:48 am

Just a qn if you can enlighten me,
To increase ankle eversion,
Do we do lateral or medial glides at sub-talar joint?
Or mobilise anterior joint medially, while mobilizing posterior joint laterally?
Joint plane at 30 degrees plantarflexion?
--------------------------------------------

Sub-Talar Joint Glide
Patient & limb position:
• Side lying, foot parallel to floor (or slight upwards)
Therapist position:
• Facing anterior leg by side of bed
Stabilizer hand: talus and distal leg
Motivator hand: thenar eminence as contact point onto
lateral heel below lateral maleolus
Test procedure:
• Translatory glide in a medial-anteroposterior direction
(~45°)
Indication & Notes:
• Note any tightness or looseness of this joint
• This glide is associated with impaired pronation
• Note: reverse glide by using finger pads as contact
points to test for accessory motion associated with
pronation or use the next slide position
I would think lateral glide at subtalar joint.



Posts

: 1


Points

: 1


Reputation

: 0


Join date

: 2012-07-27



mulligan wrote:I would think lateral glide at subtalar joint.
Reference from Basic Biomechanics of the Musculoskeletal System- Nordin and Frankel
Supination and pronation occur primarily at the subtalar (talocalcaneal) joint. During supination, the sole faces medially, and during pronation of the sole faces laterally.
Subtalar motion is evaluated by grasping the tibia with one hand and inverting and everting the heel with the other hand.
The subtalar joint everts in part because the point of contact of the heel is lateral to the center of the ankle joint, thus, producing a valgus thrust on the subtalar joint.
Therefore the improve the eversion of the subtalar joint, the clinician has to apply a medial glide of calcaneum on talus (stabilising talus and distal leg)
Mr Jack wrote:

mulligan wrote:I would think lateral glide at subtalar joint.

Reference from Basic Biomechanics of the Musculoskeletal System- Nordin and Frankel

Supination and pronation occur primarily at the subtalar (talocalcaneal) joint. During supination, the sole faces medially, and during pronation of the sole faces laterally.

Subtalar motion is evaluated by grasping the tibia with one hand and inverting and everting the heel with the other hand.

The subtalar joint everts in part because the point of contact of the heel is lateral to the center of the ankle joint, thus, producing a valgus thrust on the subtalar joint.

Therefore the improve the eversion of the subtalar joint, the clinician has to apply a medial glide of calcaneum on talus (stabilising talus and distal leg)
for reference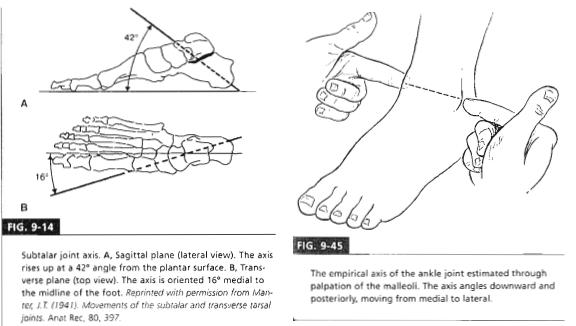 Similar topics
---
Permissions in this forum:
You
cannot
reply to topics in this forum